For almost two years, President Trump has stated that NATO needs to start paying their fair share in order to keep the alliance working the way it was designed to, and now it appears that his words are carrying a LOT of weight.
According to Breitbart, NATO Secretary General Jens Stoltenberg announced that NATO will INCREASE spending to help support the organizations security and military operations.
Here's more from Breitbart:
"The increase, according to Reuters, is "partly aimed at showing the United States they are committed to shouldering more costs."
During his trip abroad in spring, President Donald Trump pushed members of the NATO alliance to start paying their fair share of the cost to keep the alliance solvent and effective.
"NATO members must finally contribute their fair share and meet their financial obligations," Trump said, pointing out that 22 of 28 members were still not paying enough money for their national defense.
"This is not fair to the people and taxpayers of the United States," Trump said.
"This year's 4.3 percent increase represents the fastest growth since more than a decade of cuts ended in 2014, Reuters reported. "Spending growth was 1.8 percent in 2015 and 3.3 percent last year, although it was unclear how near that takes members to the target."
Stoltenberg said the increase in spending is NATO showing the U.S. it has reliable allies in the fight against common enemies.
"We have really shifted gears, the trend is up and we intend to keep it up," Stoltenberg said and Newsweek reported. "It's more about high-end forces, heavier forces and more ready forces, meaning we need forces that are fully equipped, fully manned and fully trained.""
On Thursday, a report on NATO spending was released that revealed only 6 of the 28 NATO countries are spending 2 percent or more of GDP. 
Check out this chart from their findings: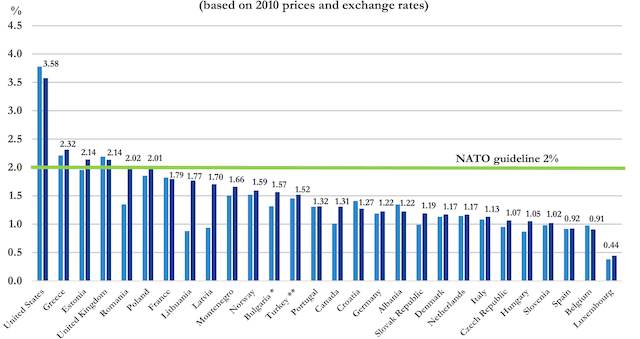 It's clear that Trump's skills as a master negotiator are working wonders for our country and the world! We are so glad to see his tactics used in "The Art Of The Deal" are working just as he stated.
Are you happy to see this progress? Comment below to give your opinion…